Introduction
Thank you for downloading Cazuela WordPress theme by ThematoSoup.
Cazuela is amazingly flexible and powerful free theme. It comes with 6 different page layouts and 9 widgetized areas. Clean code and latest WordPress quality guidelines make it secure and very light.
Every feature you want to enable or disable is in one place – Theme Customizer, so whenever you change something you get an instant preview. Theme customizer is a native WordPress feature which makes it very easy to adjust the theme to your liking.
Cazuela is carefully thought through and gives you much flexibility for you to sway it into anything you need.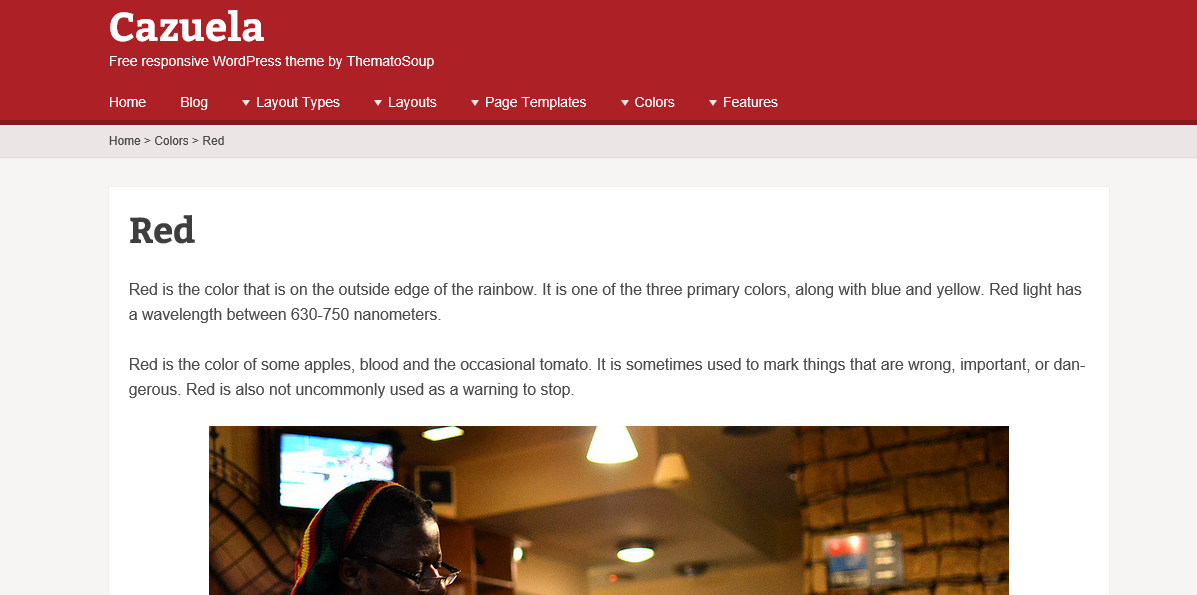 Features
Cazuela lets you choose between 2 layout types:
In addition to this you have the option of 6 page layouts:
one-column
two-column (right sidebar)
two-column (left sidebar)
three-column (2 right sidebars)
three-column (2 left sidebars)
three-column (left primary sidebar, right secondary sidebar)
All of these options are easily accessible through Theme Customizer, found in Appearance > Customize.
Widget Areas
There are 3 main widgetized areas:
Most of you will use these three, but some will have the need for inserting banners, AdSense ads, calls-to-action and other content and have more control over positioning.
Cazuela has one Homepage Widgetized Area below all your content where you can insert three widgets per row in unlimited number of columns. In addition to this you control 6 more widgetized areas:
before header
after header
before content
after content
before footer
after footer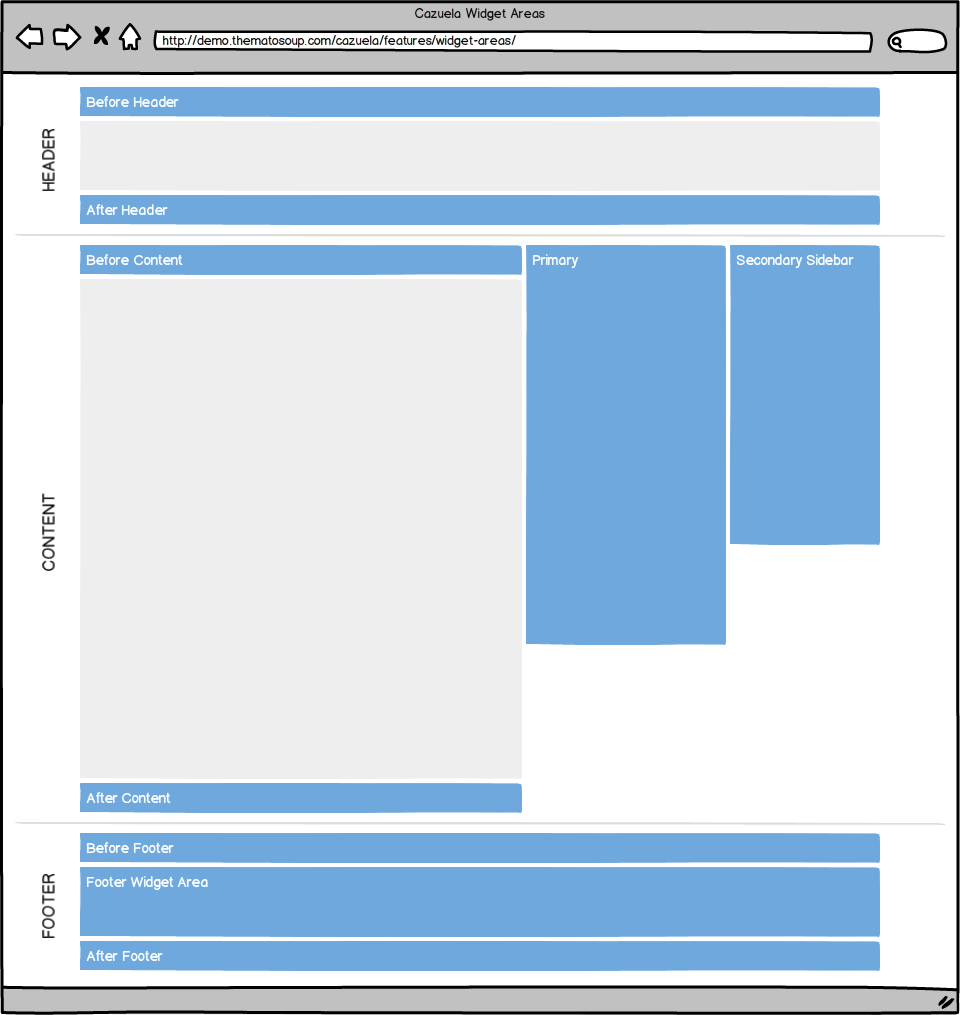 Templates
4 different templates (with more to come) let you choose the best possible way to present your content:
Widgetized Homepage (Widget area below content)
Authors (Sortable list of subscribers, contributors, authors, editors and administrators)
Masonry (Pinterest-like template)
Sitemap (Pages, categories and 25 of your latest posts)
Color Options & Other Features
Cazuela comes with 11 predefined color schemes. You can tweak any color scheme to your liking by choosing its link color and background color which applies only for boxed layout.
Background Image
You have the option of setting a custom background image or a pattern. This will only be visible if you select boxed layout. A custom background color will be overridden by a background image. Navigation Cazuela lets you select your menus from within theme customizer, as well. You have the option of showing your navigation above or below posts.
Front Page
Static Front Page is where you choose what to show on your home page, as well as which page will serve as your blogroll.
Responsiveness
Cazuela theme is responsive, so it will look great on browser window any size and on any desktop or mobile device.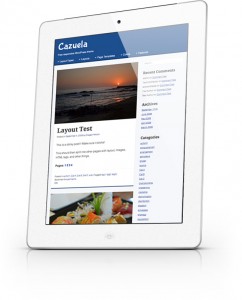 Typography
Typography is what makes every website usable, readable and determines its character. Cazuela lets you choose between 8 Body and 7 Header fonts.
Body fonts:
Arial
Helvetica
Open Sans
Lato
PT Sans
Gudea
Lora
Istok Web
Header fonts:
Georgia
Open Sans
Lato
Oswald
Bitter
Merriweather
Droid Serif
Site title and tagline are your standard WordPress features. They are placed in the header area. Site title is substituted by logo should you upload one.
Theme Hooks
For developers who want to extend the functionality of Cazuela, there are 6 action hooks. They make tweaking child themes and using add_action function very easy:
thsp_before_header
thsp_after_header
thsp_before_content
thsp_after_content
thsp_before_footer
thsp_after_footer
Six matching widget areas are added to the theme using these action hooks, so you can easily remove them in certain pages using remove_action function.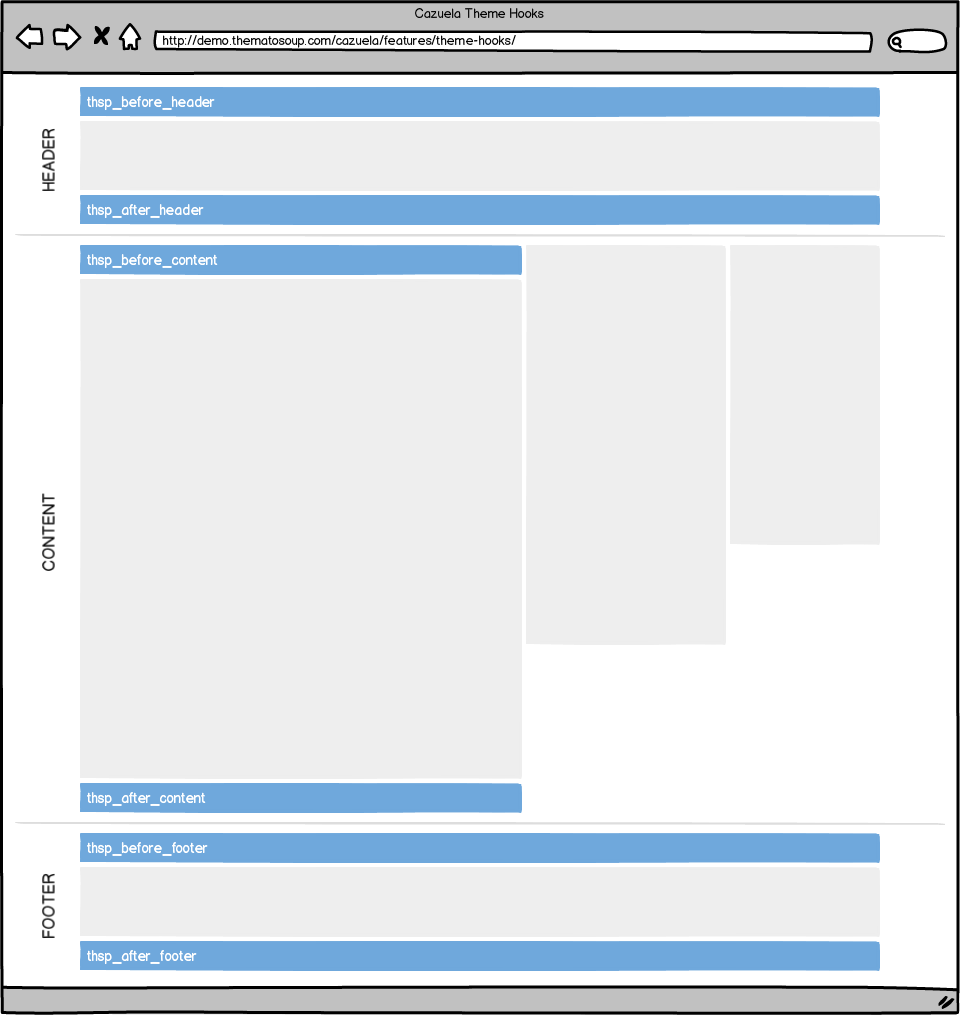 Uninstalling
To uninstall Cazuela theme you will first need to deactivate it.
This can be done from Themes screen in your WordPress dashboard. First activate a different theme. After this hover over Cazuela theme image and click on the "Delete" link.
---
If you like it, please take the time to rate it at Cazuela WordPress.org page. If you have a suggestion on how to make it better feel free to tell us using our Support Forums or contribute yourself on GitHub.